Description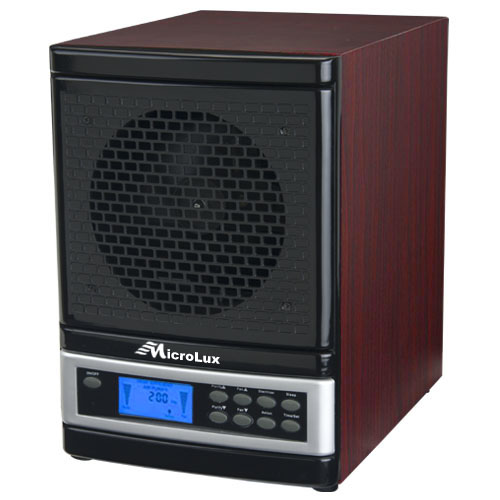 MicroLux ML4000D Pro UV Air Purifier HEPA Carbon Ion Air Cleaner – ML4000DCH

Model:

ML4000DCH

FAO SKU:

ML4000DCH

Brand:

MICROLUX

Condition:

NEW

FSKU:

FSKU179.99
The MicroLux Air Purifier is a powerhouse that can clean up to 3000 sqft of air and will leave your home or office smelling clean and fresh. The ultra quiet five-speed fan is so whisper-quiet, you can hardly hear it. Using SEVEN types of filtration to clean the air, the MicroLux will reduce the spread of colds and the flu by eliminating airborne bacteria, viruses, germs, and mold spores. It will also reduce levels of allergens including pollen and animal dander and other contaminants in the air that could cause illnesses. In addition to removing all the harmful airborne particles, this purifier will make your home smell fresh and clean by eliminating odors such as pet odors, cigarette smoke, and dust. PRE FILTER Air passes through this filter first, removing the largest particles and prolonging the life of the other filters. HEPA FILTER Filters solid particles down to the size of a human hair (0.3 microns). Removes allergens, contaminants, dust and pollens from your home or office. The HEPA filter is washable and reusable. DUAL UV GERM KILLING FILTERS Ultra violet light is the most effective way to eliminate micro-organisms. Germs, mold, bacteria, germs, and viruses. The MicroLux features dual UV germ killing filters that destroy all micro-organisms preventing any from reproducing and recirculating through your home. OZONE PLATE The ozone plate produces low levels of ozone designed to destroy tobacco smoke and its inherent impurities plus odors from pets, cooking, mold, mildew and other household sources. TiO2 PHOTO CATALYTIC FILTER Coated with titanium dioxide, this filter produces highly reactive electrons and ions when combined with the dual UV filters. These ions attach to odor causing bacteria and chemical molecules, destorying them through the process of oxidation. Washable and Replaceable. ACTIVATED CHARCOAL FILTER Large Activated Carbon Charcoal filter. Charcoal filters are proven to safely removes odors from the air. DUAL POINT NEGATIVE ION FILTRATION Circulates negative ions throughout a room to neutralize floating pollutants. Negative ion generators remove contaminants such as smoke, pollutants, allergens, bacteria, and viruses which lead to a variety of health concerns. Feature can be adjusted on and off.
Features
Seven stages of air purification process
Five Speed fan
Compact yet powerful
Manual control and Remote control
Safety switch (disable unit unless filters are properly installed)
Attractive cherry wood finish (Also available in Black)
Washable and replaceable pre-filter
Washable and replaceable HEPA filter
Washable and replaceable photo-catalytic filter
Long lasting UV light
Sleep mode dims the bright LCD panel to a minimum level allowing a good night sleep.
What's in The Box
7 Stage UV Ion Air Purifier with Remote (Cherry Wood Finish)
Owner's Manual
Warranty
1-Year Limited Factory Warranty
30 Day Satisfaction Guaranteed
Specifications
Product Type
UV air purifier
Product Dimensions
12" x 9" x 12"
Product Weight
23 pounds
Product Color
Black
Coverage Area
Up to 3,000 square feet
Remote Control
Yes
Sterilizer and Anion Function
Yes
Ozone Level Control Function
Yes
Removes Pollutants
smoke, mildew, bacteria, viruses, fungi,

odors, and extensive polluted areas
Number of Sanitizer Settings
3 – high, medium and low
Power Cord
120 Volts Grounded cord
Power
120V, 60Hz, 45W